Delivery of newbuildings Aframaxes "CSK Valiant", "CSK Endeavour" and Capesize (Newcastlemax) Bulk Carrier "CSK United"
November 8, 2017
TCC Group is pleased to announce the delivery of three new-built vessels, namely "CSK Valiant" and "CSK Endeavour", two 114,700 DWT Aframax crude oil carriers from Namura Shipbuilding Co., Ltd., and "CSK United", a 207,600 DWT Capesize (Newcastlemax) bulk carrier from Imabari Shipbuilding Co., Ltd., in the second half of 2017 .
On 18th August 2017, TCC took delivery of Aframax "CSK Valiant" built by Sasebo Heavy Industries Co., Ltd. at Sasebo Shipyard. "CSK Valiant" was christened by Miss Emma Claire Randall, niece of our Mr. Kenneth Koo, Group Chairman and CEO. Miss Randall called for the vessel "a new generation you are to carry on the legacy of your older sisters", connoting that "CSK Valiant" is the third of three generations of vessels carrying this name. The first and second "CSK Valiant" were built in 1990 and 2003 respectively.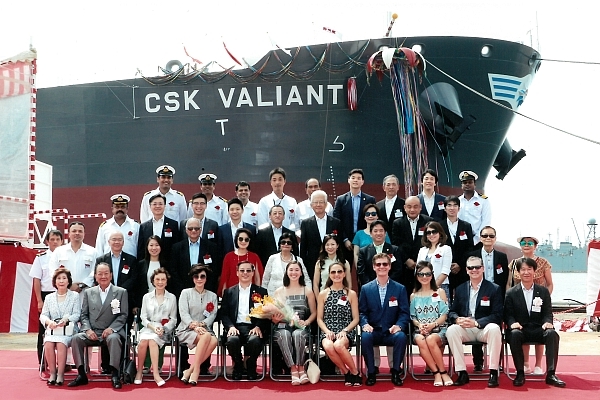 A month later on 13th September 2017, another Aframax "CSK Endeavour" was delivered to the Group at Namura's shipyard at Imari, Saga Prefecture, Japan, and was christened by Mrs. Susana Chan, wife of our Mr. Chan Chuk Pui, Non-Executive Director. "CSK Endeavour" carries her name to symbolise time honoured values of determination to strive.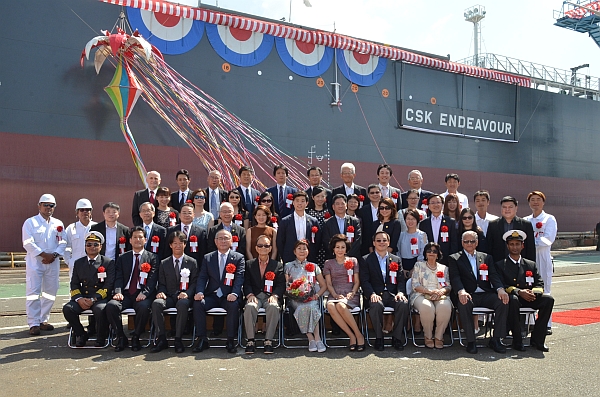 Together with "KWK Excelsus" and "CSK Vanguard" which were two Aframaxes delivered last year, the Group now owns four Aframaxes built by Namura, embodied the strong strategic alliance and friendship between TCC and Namura.
"CSK Valiant" and "CSK Endeavour" are chartered to Shell and BP respectively.
The year 2017 also saw the delivery of "CSK United", a Capesize (Newcastlemax) bulk carrier at Imabari Shipyard on 29th August. The Group was honoured to have Mrs. Tamiko Onaka, wife of Mr. Koichi Onaka, Managing Executive Officer of Sumitomo Mitsui Trust Bank, Limited to christen and bless "CSK United", a name representing unity, harmony and solidarity. TCC is also expected to take delivery of a sister bulk carrier from Imabari's yard in 2018.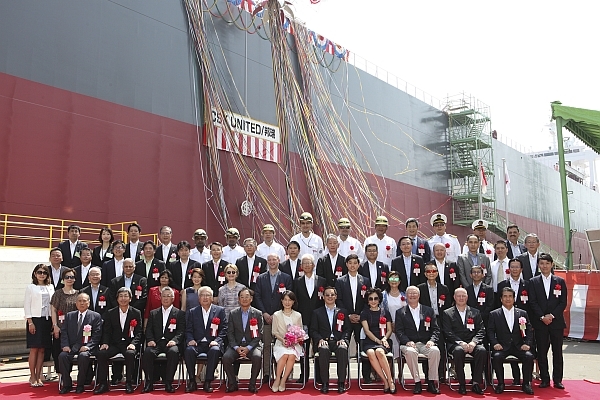 "CSK United" is chartered to NS United for a ten year time charter. The long term time charter celebrates a long friendship of almost six decades between TCC and NS United, throughout which period the parties have witnessed and played a role in the growth and prosperity of each other. "CSK United" bears testament to the strength and commitment of the parties (as business associates and friends) who continue to dedicate their efforts to the safe and reliable transport of seaborne cargo to valuable customers around the world.
In this year of TCC Group's 100th anniversary, the delivery of the three new vessels marks an important milestone of the Group's fleet renewal program. The Group's current fleet stands at 14 vessels, comprising 6 tankers and 8 bulkers with an average age of approximately 6 years aggregating a total deadweight of over 2 million metric tons.